Management
Godfrey` has extensive experience in development banking focussing on agribusiness, project financing, advisory and trade financing structures. He is responsible for the development and execution of the corporate strategy of the Trust. He also ensures effective monitoring and management of corporate principal risks that the Trust faces. He holds a Bachelor of Science (Hons) Degree in Agriculture, a Post-Graduate Diploma in Management and a Master in Business Administration (MBA) degree.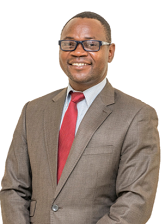 Business and Market Development Manager
Fortunate is a seasoned Agriculturalist, Development and Corporate banker with vast experience in managing agribusiness and corporate portfolios. Fortunate is currently the Relationship Manager for ZADT, responsible for business development and fund preservation. He holds a Bachelor of Science (Honours) Degree in Agriculture and a Masters Degree in Business Administration (MBA), as well as certificates in Financial Analysis, Project & Credit Assessment and Appraisal, Corporate Workouts and Turn Around strategies, Selling Skills and Account Relationship Development and Management, Investment, Project Management and Risk Analysis.